Monthly Archives: November 2011
So you have listed your place on Airbnb.com and now you are preparing for the onslaught of hundreds of bookings. One of the most important things we have learnt is when to say no to a booking.
I've written before on making sure you figure out your guest profile and then stick to it, so you need to ensure that you then say no to people who do not fit in.
We had a booking request last week for the first 4 days in January 2012 – it was perfect except that we wanted to leave early the day of checkout to go up the coast for a few days. I had used the Airbnb Calendar feature to block out the Saturday night, however people could still book to depart on the Saturday.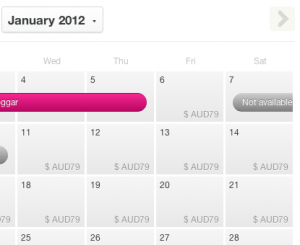 So a request came in for a 3 night stay leaving on the Saturday, after discussing with the potential guest we knocked back the request as they wanted to check out late. I was hesitant to do this as the guest fitted our profile and we blocked out a large amount of time from Christmas to New Year so getting some money coming in would get us off to a good start for the year.
I was annoyed to have forgone the revenue, however unless you are and Airbnb host solely for the money then it is important to ensure you also don't interrupt your personal life too much.
Update: A day after writing this I received another request from a UK Couple living in Hong Kong to visit. They want almost the same dates, departing on the Friday which suits us perfectly. Happy Days.
---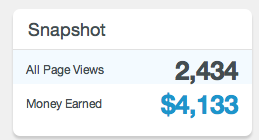 So, 3 months gone hosting on Airbnb and the stats are looking good. Over $4,100 in confirmed reservations, consistent inquiries every week and we think we have figured out our "preferred" type of guest.
Read More
---
So we just had a couple stay with us that wanted to use the kitchen every night. They didn't come across as people who wanted to do this – a lovely polite couple of honeymooners from the UK in Sydney for 3 nights. Whilst we hadn't explicitly stated in the Airbnb House Rules section that this wasn't allowed, the fact that it is AirBNB as in the BNB meaning bed and breakfast and not bed, breakfast lunch and dinner we thought may have been enough. However, as a global business with people from different cultures, expectations and standards, it highlighted the need to ensure that you use the House Rules section of Airbnb explicitly – stating exactly what you want and what you don't want in a guest.
So – we have adjusted our listing accordingly, to make it obvious that we discourage our guests from using the kitchen to cook dinner (especially Fish Head Soup) Given Surry Hills is Sydney's premier restaurant district with choices from the lower to top end of town it isn't hard to find a $10-15 cheap meal close by. (BTW we recommend the Strawberry Hills, Shakespeare and Trinity pubs close by as great cheap dining locations)
We invite your comments via Facebook on this article, how are you making the best use of the House Rules listings? How have you adjusted your House Rules or your general listing based on guests behaviour? Share your ideas and join the discussion, the entire Airbnb community benefits from our combined wisdom.
---
Subscribe & Get A Free Airbnb Book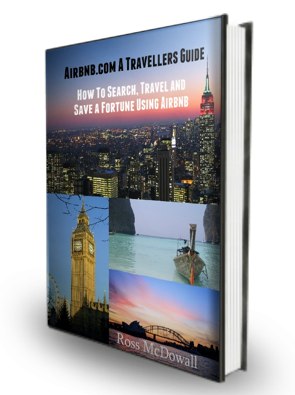 Airbnb Air Ambassador
Thinking of being a Airbnb Host?
Get a USD$50 Bonus when you signup and accept your first reservation.
Click here to find out more.
Popular Right Now
Airbnb Search