So you have listed your place on Airbnb.com and now you are preparing for the onslaught of hundreds of bookings. One of the most important things we have learnt is when to say no to a booking.
I've written before on making sure you figure out your guest profile and then stick to it, so you need to ensure that you then say no to people who do not fit in.
We had a booking request last week for the first 4 days in January 2012 – it was perfect except that we wanted to leave early the day of checkout to go up the coast for a few days. I had used the Airbnb Calendar feature to block out the Saturday night, however people could still book to depart on the Saturday.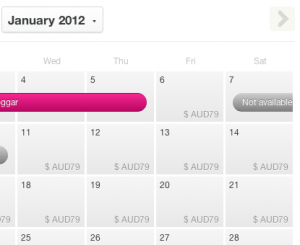 So a request came in for a 3 night stay leaving on the Saturday, after discussing with the potential guest we knocked back the request as they wanted to check out late. I was hesitant to do this as the guest fitted our profile and we blocked out a large amount of time from Christmas to New Year so getting some money coming in would get us off to a good start for the year.
I was annoyed to have forgone the revenue, however unless you are and Airbnb host solely for the money then it is important to ensure you also don't interrupt your personal life too much.
Update: A day after writing this I received another request from a UK Couple living in Hong Kong to visit. They want almost the same dates, departing on the Friday which suits us perfectly. Happy Days.