If you are looking to book using Airbnb then you should read this prior to booking to ensure you know what you are getting into. Airbnb is not like a hotel, so get informed first, then book and enjoy your stay.
1. Start Your Search Early
Often the best rooms on Airbnb are booked early. This is especially true with the Airbnb algorithm pushing hosts to the top of the search results with the result being that the best places get booked first. If you know you will be travelling start looking early at what accommodation is available, the price ranges. If you are after a whole apartment, then filter out private room stays and vice versa. There is no point surveying whole apartment costs if you are a single traveller.
2. If you know where you want to stay within a city, then use filter by distance.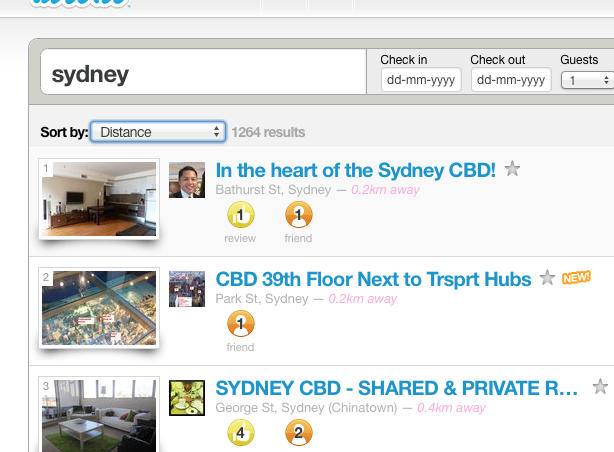 Very important, if you want to stay close to Sydney CBD, the Lower West Side of Manhattan, or in Chelsea in London then ensure that you search on the exact location and then use the filter by distance. The Airbnb algorithm is all over the place when it comes to suggesting accommodation choices with places often miles away from your preferred location being suggested. The distance filter will then only show you what is available in that area. Another ninja tip is to use the search in Google map function to really narrow down your location.
3. Book Early
The best places tend to get booked out quickly (see tip #1 above) so the early bird gets the worm. The only issue with booking early is that Airbnb collect the payment from you up front. So you may end up paying for your accommodation months before you travel. For best results, book about 5 weeks out from your stay.
4. The flipside – Last Minute Airbnb bookings
Sometimes its impossible to book early so your left with what is available. That said, you are now in a better position to strike a deal with your prospective host. Remember you hold the bargaining chips and can ask for a discount – especially for a longer stay. The other good thing about booking late is putting off the Airbnb charge until the last minute.
5. Read the House Rules

Always make sure you read the house rules of a hosts listing.Especially important if you are going to book private rooms in peoples houses as they sometimes have some pretty quirky rules on everything from using their kitchen to fees for doing your laundry.
6. Use Filters to discard results
Using the Airbnb filters is a great way to laser focus on the things that are important to you. WiFi access for one is something I always filter on. Price is another – if you have an upper limit, then don't bother wading through places you can't afford, you will be surprised at the quality accommodation that is available especially if the hosts are new and follow our tip to get more bookings by lowering their initial prices.
There are filters for almost everything – so use them wisely to remove the places that don't meet your criteria.
7. Read your hosts reviews
Once you have settled on a number of places, make sure you thoroughly review their recent Airbnb reviews. The more positive reviews a host has, the more likely they it is that it will be a pleasant, safe and enjoyable experience. Beware if they have a couple of poor reviews amongst the good ones. Sometimes people leave a polite review even though they didn't enjoy their stay. The Superhost status is also one to look out for, however as Airbnb is still quite new (for most people) there are not that many hosts with that coveted status.
8. Watch the cancellation policy

Airbnb gives the host the option of selecting one of four cancellation policies. Almost all hosts choose the moderate or flexible, but watch out as some will have chosen the strict or super strict polices. Selecting hosts that have a moderate cancellation policies gives you the ability to change your plans up to 5 days before travel (1 with the flexible) whilst those on the strict or super strict polices will face a penalty if your plans change less than 30 days out.
9. Always leave a review



Airbnb, like eBay would not work without reviews. Not leaving a review is a slap in the face to your hosts, especially if you have enjoyed our stay. Hosts regularly check potential guests reviews looking for signs they are either a normal, pleasant guest or an axe wielding maniac to determine whether they will accept a booking request. A guest who has positive reviews about them is more likely to get their booking accepted.
10. Get yourself in the right mindset
Unless you are staying in a entire home/flat, then you will be sharing space with your host.  Staying in this type of accommodation means that you will need to interact with your host and they with you. One of our favourite things of being a host is helping our guests get the best out of their stay in Sydney by recommending the cafes, restaurants, bars and markets that the locals go to, not the tourists. If you value your privacy or space then ensure you opt for a entire home/flat accommodation instead. The Airbnb experience is all about interacting with locals, so get your mindset right, especially if this is your first time and you are used to staying in hotels.