Chip Conley the hotel guru and new Head of Global Hospitality and Strategy for Airbnb blogged this month on 5 things every Airbnb host should add to their properties description.
Chip shared some invaluable advice to Airbnb hosts through a Q&A he went on throughout the world. You can read more of the post here.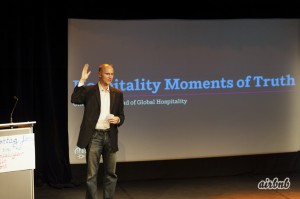 "What are your three most valuable tips that can make me an even better host?"

First, I'm a big believer in the idea of creating an authentic listing. I recommend hosts list the three things people love about your listing and the two things that some people don't like—not only does it help you find the right guests for your experience, but it also shows you're honest and self-aware. This leads to trust and the first thing you want to do with a prospective guest is to grow their trust.

Second, find out why a guest is coming to your city. The more you know about the guest, the better you can make recommendations of unique things they can do when they arrive. Customized suggestions show that you truly care about your guest.

Third, soon after your guest has checked in, send them a message to see how they're doing and if they have any questions. Guests are often cautious about looking for help about something that's not working properly and this kind of proactive step on your part will make it easier for them to ask a question and for you to maximize their delight.
I've gone ahead and updated our listing with our 3 best things and 2 things that people don't like.Here is what I came up with
3 Things People Love About Our Place
1. Location – Our location puts us within 3 mins of the Airport train, the city and the best choice of bars, pubs and restaurants in Sydney. Surry Hills is the best place for someone who has never been to Sydney to stay. If you want to stay where the package tourist stays then Darling Harbour and the Rocks are for you.
2. Own bathroom – A lot of Airbnb rooms do NOT have their own bathroom. Ours does.
3. The attention to detail – If you go through our 130+ reviews you will see a theme that Jo and I pay attention to the things that matter for our guests. Directions – no problem. Booking you a cab at 4am to go to the airport – No problem. Restaurant recommendations for every budget and cuisine – No problem. What are the places to avoid – No problem. Late flight and want to store your luggage for the day – No problem
2 Things About Our Listing We Would Change if we Could
1. The room is on the small size. – It's true it isn't the biggest room in the world, but if you are coming to Surry Hills to sit in your room all day then you are doing it wrong. Besides – go outside and sit on one of the 2 awesome balconies and catch a few rays and the enjoy the view
2. We Aren't Home 24/7 to Check You In – Well we both work and have a life, however generally we will go out of our way to be available when you arrive and that includes early checkins from the odd 6am flight. So 3 days a week check in is not till after 6pm.