If you are planning on being an Airbnb host then read this before you list your apartment or home. If you are already a host, then this checklist will ensure that you set your listing on Airbnb up like a pro.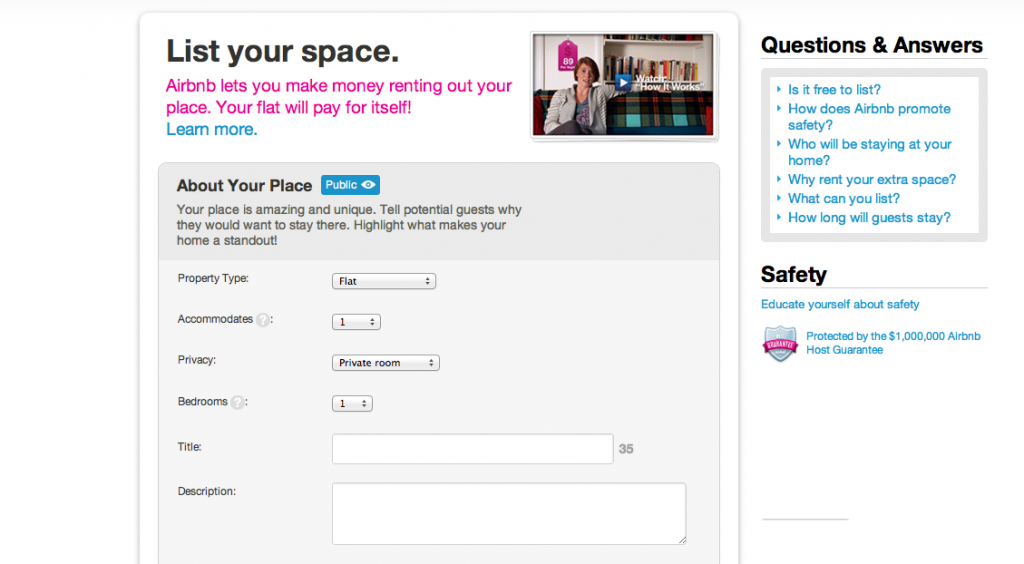 Price Correctly – lower at first and lower for low season
When starting out the main thing you want is your first guest. The problem is, is that you don't have any reviews and guests are far more likely to stay with people who have lots of positive reviews. So you best weapon against the review deficit is price. If you start with a lower price that your nearest competitors then you will attract bookings (make sure you don't go too low though) As an example if the Airbnb listings around you average $80-90 per night, then you should think about starting at $69. As you get your first lot of guests and start to gain some momentum then you can slowly move your prices up to the area average, or higher if your place is better than average.
Also think about low/high season. In Sydney, low season is now, in our winter and we have reduced our prices somewhat to attract more bookings. Our high season is summer, especially through Christmas New Year is the busiest with New Years Eve commanding a premium.
Offer something for free
People love getting soothing for nothing. Think of what you can include gratis in your accommodation fee. The main ones you might want to think about are the
cleaning fee, as this can make a one or two night stay expensive,
WiFi, as the vast majority of people travel with their laptop and smartphone and want internet access
laundry as there is nothing better after being on the road for a few weeks to be able to do your laundry
Most ofthese your already paying for and the extra costs really isn't too much.
Upload lots of photos
People love looking at the photos of your accommodation and we always ask our guests why they chose us. A lot of the time they mention that our place looks great and that the number of photos we have helped them decide. And a pro tip. Make sure you utilise the Airbnb FREE pro photographer to come and take photos, it's amazing how the lenses they use make your rooms look bigger and brighter.
Leave reviews early
Always leave your guest a review. As a rule, Airbnb email you 48 hours after the guest checks out to leave a review. We always ensure that we leave a review as soon as it is available. Leaving the review early reminds your guest to also review you, as they receive an email from Airbnb telling them they have been reviewed.
Fill in your guidebook
The Airbnb guidebook allows you to recommend restaurants, bars and shops around you that your guests may enjoy. The vast majority of our guests have either asked us or viewed our recommendations for meals & bars and almost all of them have gone to them.
Don't take just any guest
Be choosy with your guests. This sometimes comes down to gut feel on how you feel about the person inquiring. If you are uncomfortable with a guest then simply press the decline button. The advice from Airbnb is that this does not affect your search ranking. We have had a number of guests that simply didn't seem suitable to share our apartment. Don't be afraid to say no!
Create a book about your local area
As well as the Airbnb Guidebook, we also have put together a comprehensive pdf that we email to our arriving guests that outlines the house rules, our Top 5 Things to Do In Sydney, housekeeping information about tea/coffee, security procedures and of course about our Dachshund Reggie.
Choose your cancellation policy
Airbnb gives the host the option of selecting one of four cancellation policies. Almost all hosts choose the moderate or flexible, but there is also the strict or super strict polices to choose from. When starting out we recommend you start with the moderate or flexible policy, which people can get a full refund up to a day before for the moderate and 5 days for the flexible. Stay away from the strict as this may cause people to book elsewhere.
I hope these tips have helped you get the most out of Airbnb – If you haven't signed up yet then what are you waiting for? It's a great way to meet like minded travellers and make some extra cash to spend on your next trip. List your place with Airbnb now! If you are looking for tips on travelling with Airbnb then read our post 10 Tips for Booking A Room Using Airbnb