Airbnb have just announced the addition of offline ID verification for both guests and hosts.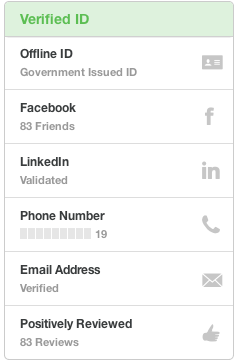 The rollout is going to occur over a number of months, you can sign up manually here. You can verify your identity by using a passport, photo ID card or driver's license, or share a few personal details. How does this affect guests and hosts?
Hosts can set rules to only accept bookings from offline verified users. If you aren't verified, during the booking process you will have the opportunity to upload your verifcation documents.
Here is the FAQ from their site.
I just verified using my passport and my ID was verified by a system called Netverify by Jumio.
Verified ID is the latest addition to our suite of trust tools. Our mission is to build the world's most trusted community and we're excited to have you as a part of it. We believe anonymity erodes trust, so we are committed to providing our members with the best decision-making tools possible.
Once you're verified, you will receive a "Verified ID" badge on your profile. Getting verified connects you with the community, cultivates your reputation, and helps add credibility to your profile. When we ask you to verify your ID during a booking, you'll have 12 hours to complete the process. It's easy and you should only need to do it once, so long as your Airbnb account is active.
Please note that Verified IDs are not endorsements of a user, nor are they a user guarantee. Each member of our community must make their own decisions as to whom to interact and connect with.
1. Does everyone need to verify their ID?
As Airbnb's community grows, our goal is to verify the ID of every guest and host.
Currently, we ask all travellers who are making last-minute reservations as well as a random sampling of community members to verify their IDs. We plan to increase this percentage over time.
At Airbnb, hosts can set reservation requirements that they feel comfortable with. Some may choose to only invite guests into their homes who have verified their IDs. If you would like to book with a host who requires their guests to verify their IDs, we'll prompt you to do so in order to complete the booking process. Any host who requests their guests to verify their ID must also get verified.
2. How does Airbnb verify my ID?
The Airbnb platform uniquely links online interactions with offline experiences. With the help of our trusted partners, we match information from your online ID (like existing Airbnb reviews, or your Facebook or LinkedIn profile) to information from your offline ID (established by an official ID or personal knowledge-based questions that are designed to be answerable only by you). The name provided by both channels must match for verification to succeed.