A recent trip to Hobart allowed me to stay in the beautiful Bishops Quarters Apartment. Located in Sandy Bay, just minutes from downtown Hobart, Salamanca markets and the ferry to Mona Bishops Quarters has got to be the best value apartment accommodation in Hobart. Sleeping up to 4 people in luxurious white cotton sheets, the apartment consists of 2 bedrooms with queen size beds, one with a walk in robe, central heating and thick curtains so you can sleep in after a late night on the town.
The bathroom features White Company Egyptian cotton towels, a huge ceramic bath, large separate shower and underfloor heating, which on a cold 5 degree Hobart morning is fabulous.
The main room combines a small TV area with comfortable couches and throw rugs, a Sonos home entertainment system along with iPad mini. WiFi is also provided throughout the apartment. The kitchen is stocked with the basics, milk, tea and coffee, vegemite and the basic cutlery that you could do some limited self catering. A Fisher and Paykel dishwasher is a nice touch. The kitchen area has great views out to the River Derwent. Dark timber floors and rugs finish off a classy and sophisticated living space.
We only met Dermot as Rebecca was studying for exams, but he was a lovely guy and showed us their plans for a second room renovation that they will also list on Airbnb once completed.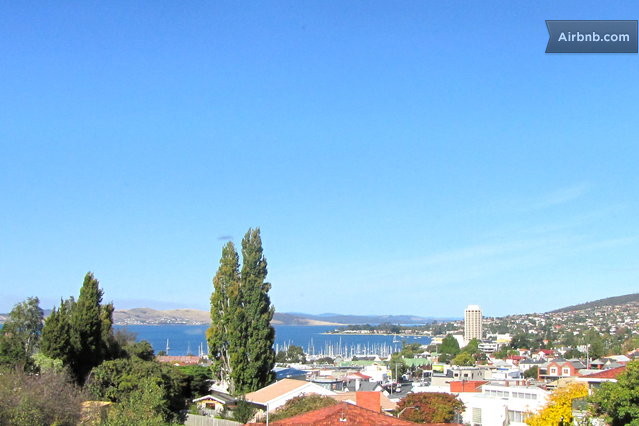 We can't recommend this place more highly, the combination of price, location and sheer luxury is almost impossible to beat – no wonder they have been booked out for months now. If you are looking for affordable accommodation in Hobart, then forget hotels – Bishops Quarters is THE place to stay.