Today I launched my new Kindle ebook – Airbnb Hosting Guide – Advanced Strategies To Attract More Guests, Earn More Money.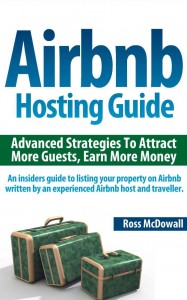 An insiders guide to listing your property on Airbnb written by an experienced Airbnb host and traveller. This book contains my best tips, strategies and insights to optimising your listing and make thousands of extra dollars per year renting your space out. The guide goes item by item in your profile, description, photos, calendar and pricing. The book also contains an exclusive code to get an bonus USD$50 on your first accommodation listing as a host, or $25 off your first travel booking on Airbnb.
It is free for 5 days rom May 31 2013 (0.99c normally) so go ahead and grab a copy and see what you think. The book is a summary of all I and my partner have learnt whilst hosting with Airbnb for near 2 years, as well as travelling through Italy, Bali, Singapore, Melbourne and Hobart.
I'd love to get feedback on what you think, please contact me using the contact button below or leave me a review on Amazon.com if you like it.