Airbnb has quietly added a new section called Amenities for hosts that lets a host add in some extra features such as shampoo, toilet paper, sheets, soap and towels.
The new features are being rolled out to users in the dashboard in the form of an alert.

Whilst completing mine I found a new section called Home Safety, which lets you also specify things like smoke detectors, first aid kits and a safety card for your listing. Airbnb also provide these free of charge to US hosts (why not the rest of the world Airbnb?)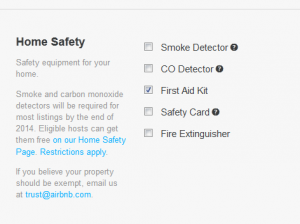 As I've stated before it is essential that you complete these. As the number of Airbnb listings continues to grow, travelers are increasingly using filters to sort the wheat from the chaff. If you find yourself with not too many amenities, then think of upgrading your place. It is often the little things that count with a lot of travellers and can be the reason they book your listing over another.