Airbnb.com recently launched a live a richer life campaign as well as a calculator that shows you how much extra money you could be making by renting out that spare bedroom, or your entire apartment to travellers.
The top reasons people are bcoming hosts on Airbnb are
To help pay the mortgage
To fund a trip overseas
To save for a new house/car
If you haven't listed with Airbnb you should at least try the calculator – it showed me that by renting out our spare room to travellers in Sydney we could make on average $1140 per month. Given that our listing is starts at $89 per night as you can imagine we are making quite a bit more than this on average. (Apartments in New York on average are netting $21,000 per year according to this story)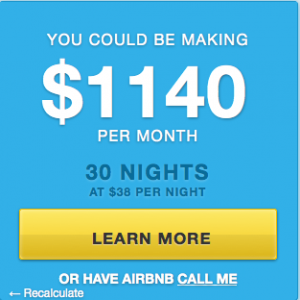 What are you waiting for – hop on over to Airbnb now and list your room now and start saving for that holiday/car/new house.