Airbnb recently released the Airbnb Open 2015 Schedule for the Paris host conference in Paris in November.
Spread over 3 days and nights the event looks to build on the inaugural conference in San Francisco last year. The site at the Parc de la Villette can hold several thousand attendees, rather more than 2014 where around 1000 hosts took part.
Here is how Airbnb describe it;
Enjoy three days and nights packed with learning and celebration. Invigorate your approach to hosting and feed your imagination with a wide range of classes and excursions around Paris.
2015 Schedule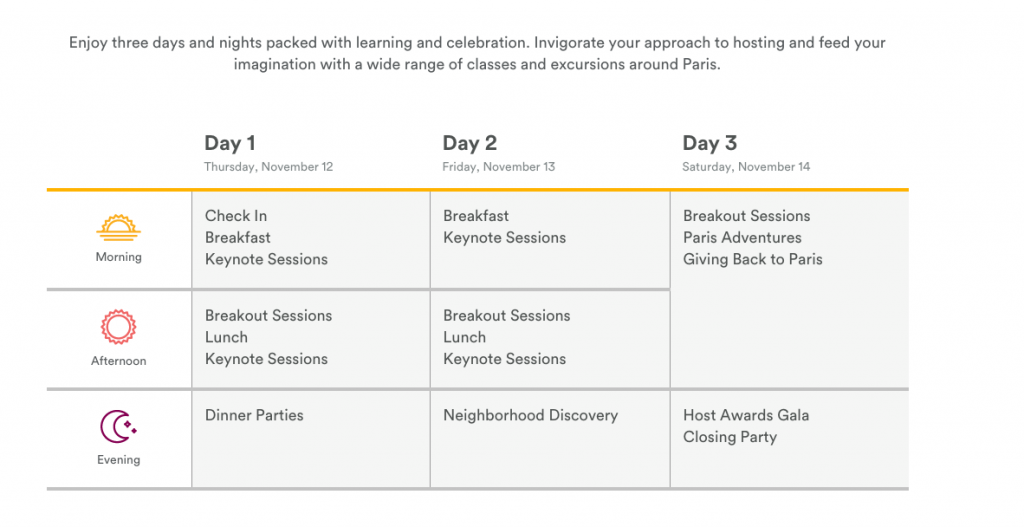 Having a quick look over the sessions available, there are 54 speakers covering things such as the sharing economy, turning your Airbnb into a money machine, security, being a Superhost from a distance as well as a number of talks on optimising your listing and space.
It is a little unclear on how the sessions from lunch to the late afternoon will actually work in terms of registering or just turning up to them however there are certainly a lot of different sessions that even seasoned hosts should get something out of quite a few.
Registration is still available so if you are a host and want an excuse to visit Paris then here is a great opportunity. If you are a host and are attending I was going to hold a few drinks in a meetup in Paris on the Wednesday night prior to the conference  – message me via the contact form if you are interested in joining in. See you in Paris