With almost 10 months of being an Airbnb host we are fast approaching our 45th review and will soon be eligible to be an Airbnb Superhost.
Airbnb confer this special status on hosts that have gone out of their way to ensure that their guests enjoyed their stay and by the number of positive reviews left by their guests.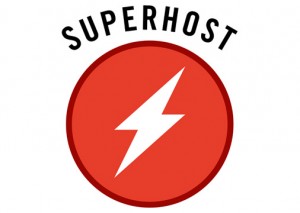 As Airbnb describe it
The SuperHost Alliance a league of extraordinary Airbnb hosts. SuperHosts are Airbnb's cream of the crop hosts who've demonstrated going above and beyond the call of duty for their guests and have received stellar reviews that reveal their exemplary skills in hospitality. You'll notice these hosts have a special badge on their listing.
How Do you become an Airbnb Superhost?
Here is the judging criteria outlined by Airbnb
Positive reviews on your listing
Have been hosting on the site for over a year
Above an 85% response rating
Have a completed profile with a picture of your face
Great pictures of your listing
Have verified yourself
You might think that this list isn't particularly hard to achieve. The first point about positive reviews will be the hardest one to keep consistent and we've given out plenty of tips for Airbnb hosts however hosting certainly isn't easy. Airbnb also state that the process to apply is lengthy and thorough and is also manual.
Benefits of being an Airbnb Superhost
By far the 2 best things about being a super host will be the boost in search rankings when people are searching for accommodation in your city, however the super host badge that is applied to your listing is also a great feature that draws people to your listing.
Here is the official list of Superhost benefits
Improved search rankings
Dedicated customer support
Sneak peeks to new features
VIP tickets to our meetups
…and maybe even a SuperHost feature on our Blog!
Applying to be an Airbnb Superhost
Pretty simple really – make sure you are eligible then hit up this page fill in the form and wait to hear back from Airbnb.
We'll be putting in our Airbnb Superhost application as soon as we qualify. Are you a Superhost? We'd love to hear your thoughts in the comments of what makes a good Superhost and tips that you have for other Airbnb hosts.