Aviva IQ, is a brilliant new free Airbnb messaging automation tool that launches today to coincide with Airbnb Open in LA. Here is a quick overview Aviva IQ and a walkthrough of how it works.
What Aviva IQ Does
Once connected to your Airbnb account, it allows the user to enter a number of emails that get sent to Airbnb guests according to a schedule.
Here is a short video of the process.
The messages that can be sent are
Confirmation
Check In
Booking Extension
Check Out
Review request
For each message you can add dynamic tags that insert personalisation into the message. Here is an example
Hi <<GUEST_NAME>>
Thank you for choosing to stay with us.
Here is some more information on our apartment including directions.
https://drive.google.com/open?id=link
If you can let us know your ETA and/or flight arrival information if not provided previously so we can make sure we are here to check you in that would be great.
If you have questions, please send a message to me through Airbnb and I will respond to you as soon as possible.
Look forward to meeting you.
Regards
Ross, Jo & Reggie
Where the tag <<GUEST_NAME>> is used it will insert the users name from their Airbnb account.
The service is free and opens in beta mode at Airbnb Open LA tomorrow.
Aviva IQ Walkthrough
Once you sign up for Aviva IQ and link your Airbnb account, your property details are automatically created for you. Then go ahead and create each message, schedule a time for them to be sent (or accept the default) and make them Active. Messages display as per normal in your Airbnb account, with a small footnote at the bottom of each message (Sent using Aviva IQ). It will even import your Airbnb saved messages templates.
Your property details are automatically created for you here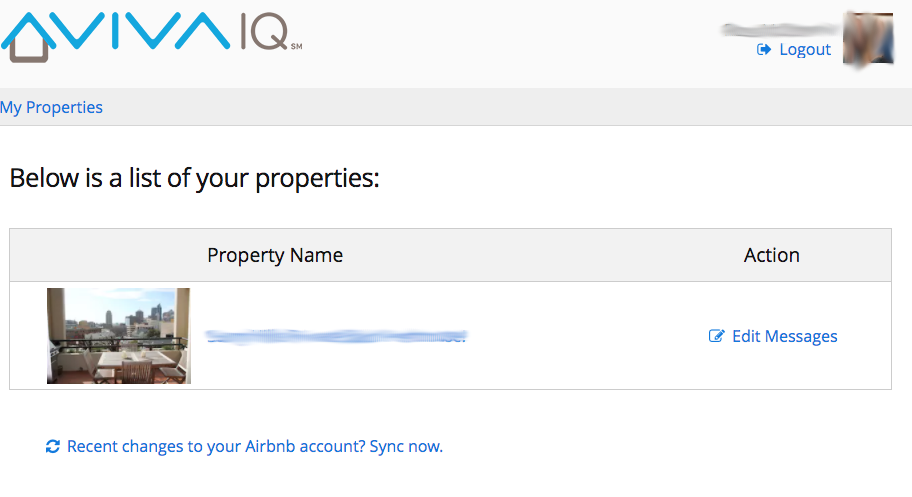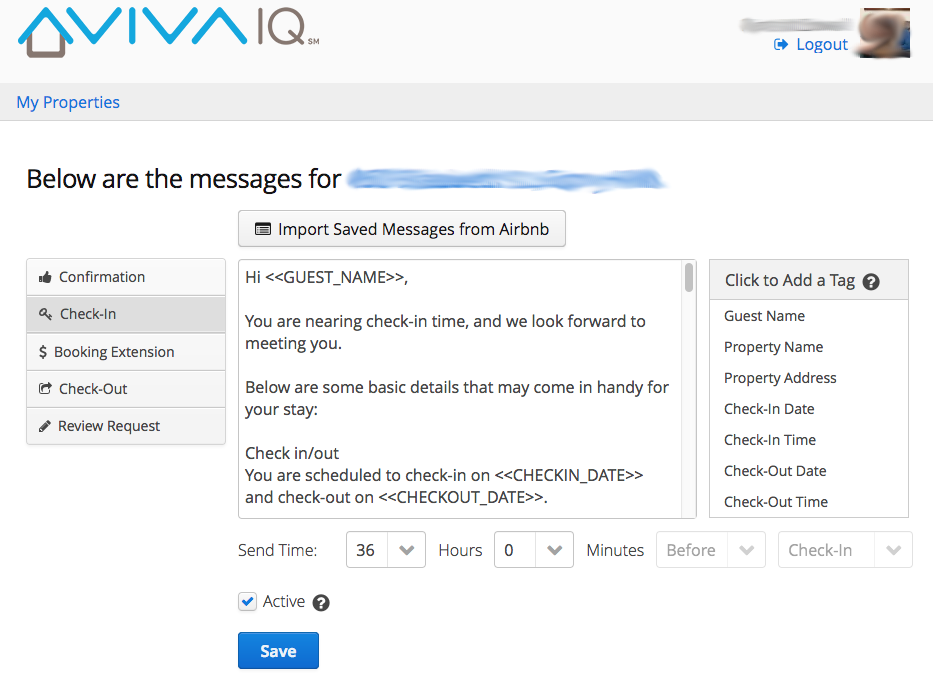 Enter your messages and schedule here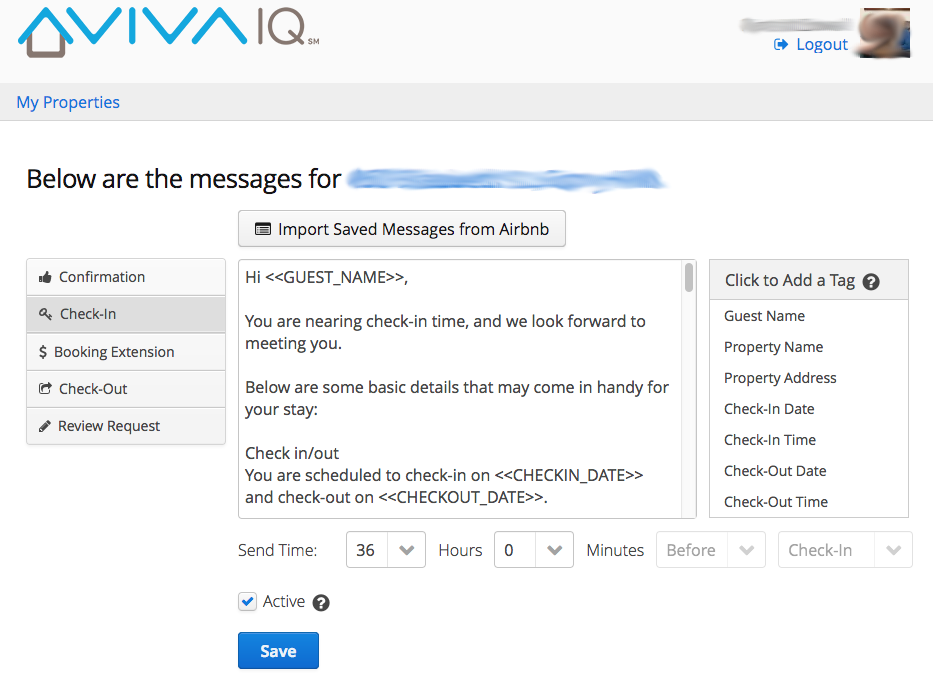 Probnb.com has been testing Aviva IQ for the last 2 weeks and it has worked flawlessly. It relieves me of remembering to send these emails to each guest and allows me to automate that process which, if you have multiple properties can take a long time each day.Best of all, it's completely free, so there is no reason not to use it.
Speaking with Co-Founder Deborah Yuster she said "With Aviva IQ, Airbnb Hosts can automate their messages and eliminate over 80% of their workload". Deb is a Superhost with more than 4 years Airbnb hosting experience and experienced similar growing pains to her peers and decided to develop a simple way to automate post-booking messages. Now she wants to give back and share it with the world so all Airbnb hosts can automate their messages too.
Sign Up For Free