With the Olympics less than 48 hours away accommodation in central London looks like it is in pretty short supply. Fortunately if you were smart enough to book early you could have locked in some bargains however it still is possible to find reasonably priced accommodation in the heart of London with less than 48 hours to go using Airbnb.
A search today revealed over 4300+ listings for London for Friday through Tuesday. Both entire apartments and private rooms are available with prices from around USD$90. Clearly some people and trying to cash in with some higher priced rooms but the majority are still a fraction of what you would be charged in a 4 or 5 star hotel
Here are a few we found that look great and that are still available.
Cool lil Chelsea flat near Kings Rd


NW1 HOTEL STYLE STUDIO FOR OLYMPICS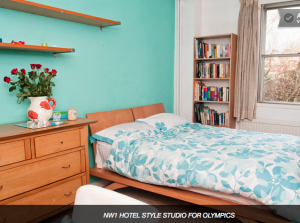 Characterful Olympic flat Highgate