Price Labs is a dynamic pricing service for Airbnb hosts. Hosts can make somewhere between 10-40% more revenue per month by using a dynamic pricing service as opposed to manually setting prices for their listing. The idea for Price Labs was born when one of the founders whilst in grad school was using Airbnb to help pay the rent, but didn't know how much to charge for an upcoming conference.
How Does Price Labs Work?
PriceLabs helps Airbnb hosts set the right price for their listing globally so that they have fewer unbooked nights on low demand days, while at the same time not leave money on the table on high demand days. They do this by monitoring the number of tourists/ visitors coming to the listing location, and stay options available (hotels and other listings). Price Labs then calculates prices based on these factors daily, and the pricing is automatically updated to hosts Airbnb calendar.
What are the main features of Price Labs?
Price Labs is solving two core problems for Airbnb hosts that help them spend more time on being better hosts and less on worrying about pricing –
1) Figuring out what's a good price for each night for their listing. This can be hard for the individual hosts – keeping an eye out for all the events coming up in future in your area that will cause demand to surge, understanding how the demand/supply behaves in such times, and finally, how to change your prices in response. We automatically change prices for seasonal shifts, events, slow days and everything else in between.
2) Uploading the prices onto their Airbnb calendar, which can be laborious to do on a regular basis even if you know what the prices should be.
With those two factors, Price Labs have designed the following features:
Demand-based pricing – higher on event days, and lower on low demand days
Ability to connect your Airbnb account to Price Labs
Ability to auto-update pricing to their Airbnb calendar,
Control over choosing the base price for your listing.
The ability to set a minimum and maximum price so that prices stay in the comfort zone.
Ability to override prices on certain days.
Launched in August Price Labs has coverage in most major cities around the world with more being rolled out monthly.
Price Labs takes user feedback on the product and has introduced several new features based directly on feedback
"We are constantly incorporating feedback from our users. Our Chicago beta helped us a lot in refining our service before taking it to other cities. We are continuing to work on multiple fronts to incorporate the feedback we have been getting. For example, we will soon give hosts the ability to set their own custom prices for certain days. Some hosts have requested the feature as they sometimes have plans and wouldn't rent out the place unless it received a certain minimum price. In such cases we want to give hosts the ability to override the demand and supply considerations with their own price." said one of Price Labs founders.
Currently Price Labs only supports Airbnb hosts, however they did suggest that VRBO support would also bee added to the product in the future.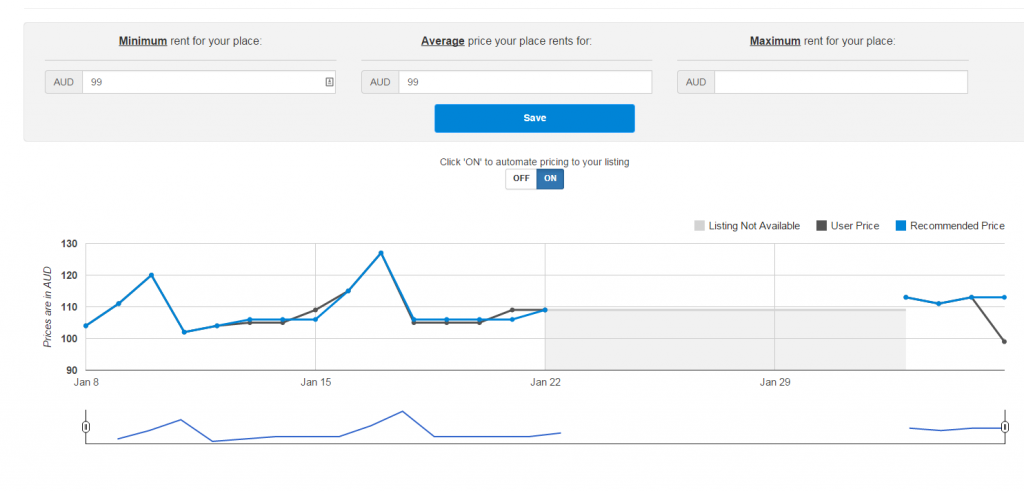 Price Labs pricing is going to be confirmed in 2015, with Price Labs being free for hosts who sign up before 31st December, 2014. Price Labs is still determining their pricing model, either a simple fee per month or percentage share of revenue. .
Sign up now and try Price Labs.
We'd love to hear back from our readers with their results. Please contact us with any results you have as we want to put together a post featuring users actual results.
Editor Note
As a Airbnb Superhost, I am currently using Price Labs to update the pricing on our Airbnb listing. Once I have accumulated a few months of use I will be posting my results and experience using Price Labs.