Proprly is a property management service for Airbnb hosts that offers Cleaning of your property, laundry services, Key Deliveries to incoming guests, Restocking of perishables and supplies as well as Guest Welcome Gifts.
Founded in 2013 by Airbnb host Randy Engler when he found that the demands on a hosts time to manage his Airbnb property took longer than expected and that others must be having the same issue.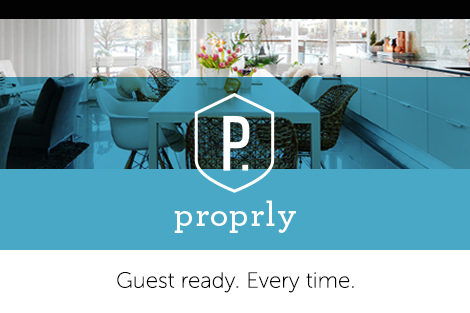 Currently servicing New York city and Brooklyn,Proprly has plans to launch in both San Francisco and Pairs in 2015.
Proprly offer the following services;
Key Delivery
Proprly couriers will deliver and meet your guests on arrival, assist with luggage and get the into your property safely. Once the guest has arrived you receive a notification.Proprly also offer a guest lockout service, where your guests can call to have keys delivered if they get locked out of the apartment. Key couriers are background checked and carefully selected.
Cleaning Services
Proprly offer professional level cleaning services using eco friendly cleaning products for your Airbnb rental. The cleaning services are comprehensive and include strip and make up of beds, through cleaning of bathrooms and kitchens, rubbish removal, vacuum and or mopping of all hard surfaces. Extras include oven cleaning, window washing and carpet cleaning.
Proprly will also comply with any special instructions like welcome notes that the host wants to include.
Welcome Gifts
Proprly will arrange for delivery of any special gifts, notes or flowers for your guests
Restock Supplies
Proprly cleaners will also make sure that your property is steed with fresh supplies of toilet paper, paper towel and any other essentials that you specify.
Proprly Prices and Fees
Key Delivery Service
Starts at $40 between 9am to 7pm with higher fees for other hours (Up to $100 for 12am-6am)
Cleaning Services
Cleaning starts from $95 for a studio apartment up to $250 for a 4 bedroom apartment. There are extra fees for services such as oven cleaning, window washing and carpet cleaning.
Proprly are offering a great deal of $30 off your first clean when you join with our link. If you have a Airbnb property in New York that needs to be cleaned give them a try.
Signup to Proprly Now and get $30 off your first cleaning service.