Smart Host is a dynamic pricing service for Airbnb, VRBO, HomeAway and other host based booking services. For this post I will concentrate mainly on Airbnb as this is the focus of the blog.

Smart Host helps hosts make more money through market intelligence and dynamic pricing. Founded in March 2014, it is in beta with the full version with dynamic pricing coming in early 2015.
Smart Host are positioning themselves as a market agnostic service and will support as many platforms as possible. Supported platforms are Airbnb, Homeaway & VRBO with Flipkey, Villa.com to come in 2015. Supported cities currently are NYC, Austin, Paris, San Francisco, Los Angeles, Fort Lauderdale, Lake Tahoe, and the Florida Panhandle with more to come in 2015.
Smart Host Features
Similar Listings: A dynamic competitive set of listings that are similar to yours by location, type, and other factors. We use these "similar listings" to help determine a base rate and constantly scan the market to see what listings you're competing with on a nightly basis.
Popular Nights: Using your similar listing competitive set, we provide you with average and recommended rates for future nights based on supply and demand.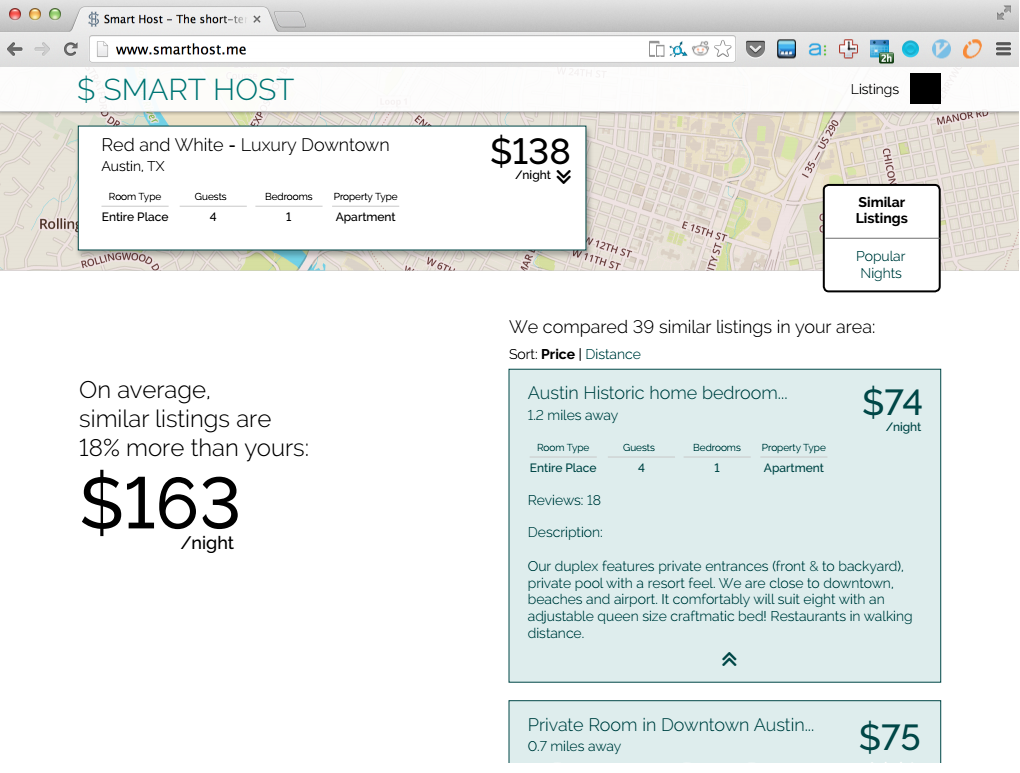 Smart Host are aiming this product at hosts with multiple properties as a priority, with a definite focus on being marketplace agnostic. Smart Host will suggest prices for your listing based on the marketplace as well as factors like competition, availability, events and seasonality, so it is possible to have different prices suggested for different services like VRBO and Airbnb if your property is listed on both services.
One of the more unique aspects of the product is the ability for a user to use it to identify areas where there could potentially be high demand for rentals. You can use the address entry option to review a neighborhood or city to gain insights on competition, pricing and occupancy. This could be a killer feature for researching that next hosting opportunity. Get using it!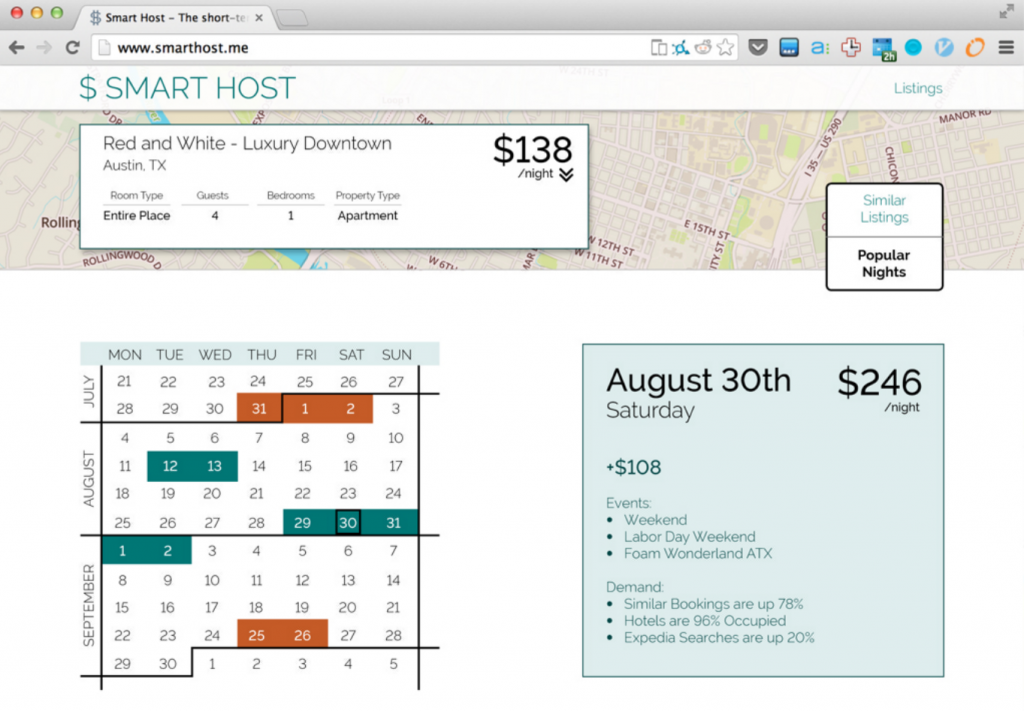 Future Developments
Along with launching a large number of new markets, Smart Host is looking to rollout support for further host/guest marketplaces like FlipKey in early 2015
Smart Host Pricing
Pretty simple – Smart Host is a monthly subscription model charging $19/month per listing.
If you signup using our link you will get 20% off for the first 3 months
Signup for Smart Host now and get 20% off your first 3 months
Probnb.com is looking to hear from hosts that are successfully using any dynamic pricing service as part of a case study on the effectiveness of these new services, please contact us to take part. All contributions will be anonymised.