Thinking of staying in an Airbnb and want to grab a discount and find out the most luxe places in the city? Luxe travel guides that I highly recommend are having a promotion, simply download the free app for iOS or Android and then purchase one of the many Luxe Premium City Guides.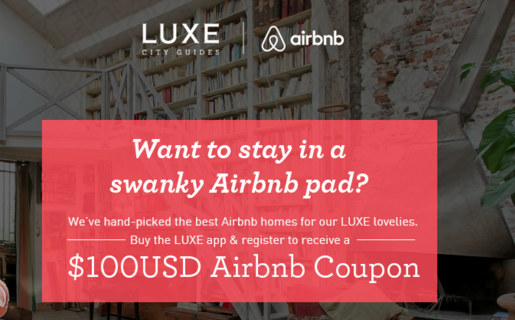 Once you have purchased and downloaded your guide check your email for a unique code to enter at checkout.
Of course there are a few terms and conditions, all travel must be before the 31st December and you must spend a minimum of USD$500 so it won't suit everyone but hey if you are planning a trip in the next 2 months then not only do you get a super useful travel guide on your smartphone you also get $USD100 off the trip. Sweet.
Luxe Premium City Guides are available for Amsterdam • Bali • Bangkok • Barcelona • Beijing • Berlin • Chicago • Dubai • Florence • Hong Kong • Istanbul • London • Los Angeles • Madrid • Melbourne • Miami • New York • Paris • Rome • Seoul • Shanghai • Singapore • Sydney • Tokyo • Venice.
Here are the exact steps to follow
Step 1: Download the LUXE City Guides app from your relevant app store
Apple App Store: Download the LUXE City Guides app for iPhone
Google Play: Download the LUXE City Guides app for Android
Step 2: Purchase a LUXE Premium City Guide – choose from the cities above
Step 3: Check your email and collect your unique code
Step 4: Enter your unique code when booking your Airbnb accommodation